Time is passing by quickly in 2015. We are almost one third of the way through the year. The global arena is full of unceasing activity. If you have read our earlier blogs and news updates you will recall that we are in one of the most profound seasons of Biblical history as we witness so many extraordinary events taking place in the geopolitical world, the area of finances, the seemingly unrelenting issue of terrorism, but also the advancing of the Kingdom of God into previously unreached areas of the planet.
I have just finished the manuscript for our new book, which addresses the Fear of the Lord in the church and in society today. This has been on my heart for many years and so we decided to take the first two months of this year and place it in a book format. Already we are receiving many encouraging comments from various endorsers. But more about the book in the next few weeks – it is due for release either late June or early July. Watch our website for updates!
Recently Marie and I were in the Washington DC area and sharing in a conference hosted by Intercessors For America. What an amazing group of people! It was an honour to be co-teaching with Pastor Doug Abner of Manchester, Kentucky – the area that has been documented in the DVD – An Appalachian Dawn. I have included a couple of pictures of Doug and me as we share on the theme "Empowering For Transformation." People are hungry for the tools that make impacting inroads in their communities and cities.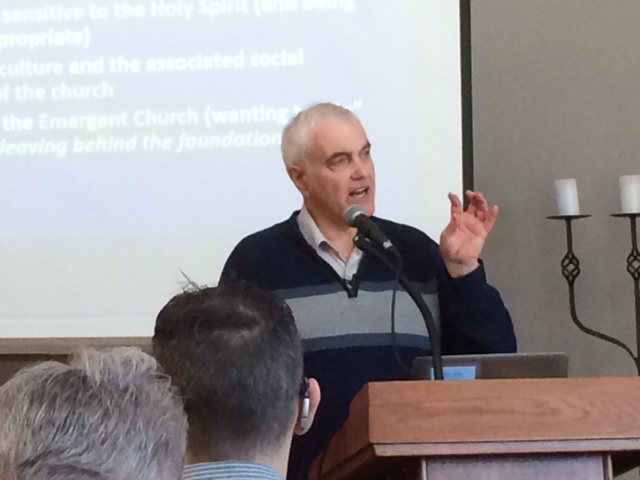 Following our time with IFA – we carried on to Nashville for the Messenger Summit. Our good friend Steve Fry is the President of Messenger which is increasingly becoming a ministry that is preparing and empowering leaders in the 21st Century Church from a very diverse spectrum. During one evening session (see pictures below), Steve interviewed Ruth Ruibal (Cali, Colombia), Dan Sneed (California), and myself concerning a variety of topics affecting the global and local communities. We have a very impacting cross section of highly informed young leadership emerging in today's Church. Exciting days!
Marie and I then had the honour of sharing with the C3 Church leadership of Canada meeting in Vancouver. Founded in Australia by a New Zealander, Phil Pringle, C3 have now planted churches in many parts of the world. We were asked to share on the theme of Healing The Land and what God is saying to His Church today. The attached picture will give a glimpse of our time with these amazing leaders.
Again, as with the IFA and Messenger conferences, we are so encouraged in watching the Lord preparing His Church with many varied expressions for a time of profound harvest. In spite of what we may see going on in the world, we are living in one of the most exciting times in history as we see Biblical prophecy being fulfilled right before our very eyes, and as we prepare for a harvest that will have global significance.
Tomorrow Marie and I leave for Moose Jaw – a city that has been experiencing several shifts over the years, especially since a number of the marketplace and church leaders have sought the vision and purpose of the Lord in their midst. We will be speaking at the Restore Our Land seed blessing service on the theme "Don't Give Up – The Harvest Is Coming" (see picture below for details!). During this occasion, people will come forward and present their seed offering before the Lord as they prepare their fields for harvest. This will involve all types of occupations as well as those in farming.
We are often asked if we will ever offer a residential venue during which we can share on many of these topics for several days. Please mark May 11th – 14th in your calendars and sign up for Living On The Edge which takes place at the Entheos Centre near Calgary, Alberta. We will be covering on many topics related to the End Times – the Challenges of the Hour – Breakthroughs in Transformation – and the profound impact of Marketplace Ministry for the Kingdom of God. For information on registering please contact Ellel Ministries – www.ellelministries.ca – or email them at info.calgary@ellelministries.org – or call (403) 335-4900. See images below for more details on some of the topics that will be covered! Marie and I would love to see you there as we spend time together seeing how God is preparing His Church in these extraordinary days. Thus the name of the conference – Living On The Edge!
Amazing days – and we have an amazing God at work in our midst. Watch our website for more updates on news and events – and for our next Ministry Update – it is coming out soon! We are grateful for your prayers – and we need them more than ever!
Our love and blessings – Alistair and Marie