Our time in West Cork was so informative and highly invaluable in order to understand the significance of this part of the Republic as it relates to the whole Island of Ireland. We looked carefully at the historical issues of civil war, famine, and slavery. It is very much a "visited land" in that the Saints and angelic visitations have been of significance over the years. This area will undoubtedly play a huge part in the coming days of Revival, and many people carry this seed of Revival in their hearts.
During our seminar in the Methodist church, I noticed one man arriving after we had begun the teaching. I felt he carried something that was important for all of us who were there – and I sensed he probably was a farmer (which he was!)
At the end of the seminar, he shared publicly that at 4:00 that morning he had been praying through the issues of Matthew 13– The parable of the Sower. He was trying to understand the deeper meaning of this parable and then he heard the Lord speak to him and say he was to attend the seminar later that day since the speaker would be explaining the deeper significance of this parable. This was unbeknown to me – and when I did share on this Parable and why it is important to remove the obstacles to a harvest before we plant the seed – (in both the physical and the spiritual sense) – it was exciting to watch his response – and to hear him share publicly later. Absolute confirmation that God was in charge of this visit!
Following our time in the West Cork area, we then drove Eastwards towards the Wexford area – our next venue. This was a follow-up visit to last year when we met with leaders representing various area throughout the Republic – and an even earlier visit to the area in 2016. This time we were hosted in Westpoint Christian Community Centre. As the following picture indicates – we were coming together to focus on Revival – and delegates has been invited from across Wexford County.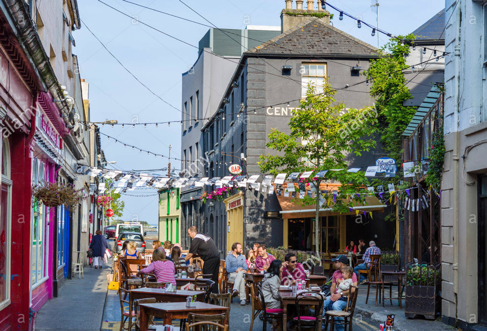 This was a highly encouraging time. Wexford is positioned as an area of rest and refreshment – a potential "city of refuge" – the main town itself being established by Viking settlers in AD 850 and would became a strategic maritime port.
Historically though, it has been a rebellious county – especially to outside authority. During the Cromwellian wars, Wexford town was laid siege by English troops – 1500 of the town's population was massacred, with a further massacre during the rebellion of 1798 at Vinegar Hill – close to Enniscorthy.
Nearby there is a memorial centre to John F. Kennedy – this area being part of the Kennedy heritage with some of the homestead being farmed by relatives of the former US President.
The County is an area of welcome – but has been subject to much historic betrayal, an issue still being addressed through prayer. It is an area of fertile growth – but which has often been stolen by others. Although it has had to endure times of "untimely death", part of its redemptive destiny is that it is a place of beauty – peace – rest – indeed, a city of refuge. In fact – historically it is known as the "Model County". Dating from the agricultural upsurge after the 1798 Rebellion, many crops were needed to feed the influx of soldiers stationed in the country to keep law and order. There is a significant call upon Wexford as we view the bigger picture in the entire Island of Ireland – for such a time as this. The County is ripe for Revival!
From here we returned to Bangor in the North – Blog 7 will outline the next part of this journey.